How to ace a Skype Interview
Before you can get onto the first rung of the career ladder, you must overcome the dreaded initial hurdle: the interview. Whether you're a seasoned pro or you're just getting to grips with how it all works, it's crucial to prepare thoroughly, and Skype interviews are no exception.
A wonder of the internet age, Skype interviews are perfect for anyone unable to travel to their interview, or only available outside of working hours. However, being in the comfort of your own space doesn't mean you can totally relax – you still need to bring your A game, and we've got a few pointers to help you do as good a job as possible.
Look the part
You might think of Skype interviews as the perfect chance to pair your smartest shirt with some PJ bottoms, but if you get caught out this could look unprofessional.
If the doorbell rings half-way through your interview, or you need to rush into another room to grab some notes that you weren't expecting to use, your interviewer won't want to see those Star Wars pyjamas, and you could risk giving the wrong impression.
Dress like it's a face-to-face interview, and make sure you look at the camera, rather than your own digital reflection.
Checking the time of an interview before it begins is always sensible, but even more so if you have to factor in different time zones. When you schedule your appointment, state which time zone you're making reference to (for example, 17:30 GMT) so everyone can be on the same page.
It's also important to know which one of you is going to initiate the call, as this will prevent either of you waiting unnecessarily and demonstrate how organised you are.
Have all of your interview notes and preparation to hand before you begin so you don't have to spend a long time searching for the information you need. If there's anything particularly important you need to see at all times, create a sticky note on your computer so you can spot it immediately.
Clean up your profile
Starting a call with bby_girl.17 might not immediately endear your potential employer, so stick to something professional and mature.
A great starting point for cleaning up your profile is to have a friend log into Skype and find you, as they may catch something that you have missed. Make your profile picture smart and close to your application picture, if not the exact same one. Remove any references to the girls' holiday in Napa from two years ago – just to be on the safe side.
Check your tech
The last thing you want during your Skype interview is to discover that your audio doesn't work, or that your Wi-Fi runs slowly with video. Give a friend or family member a test call a few days in advance, as this will show you if everything is in working order, and allow you time to fix anything that's not right.
Check the camera, microphone, speakers, Wi-Fi strength (and maybe invest in an Ethernet cable if anything is amiss), and the lighting in your room. Once all of these are perfect, you'll be good to go.
It's also a good idea to have a backup plan ready in case there are complications – could you phone them instead if your connection fails?
Your environment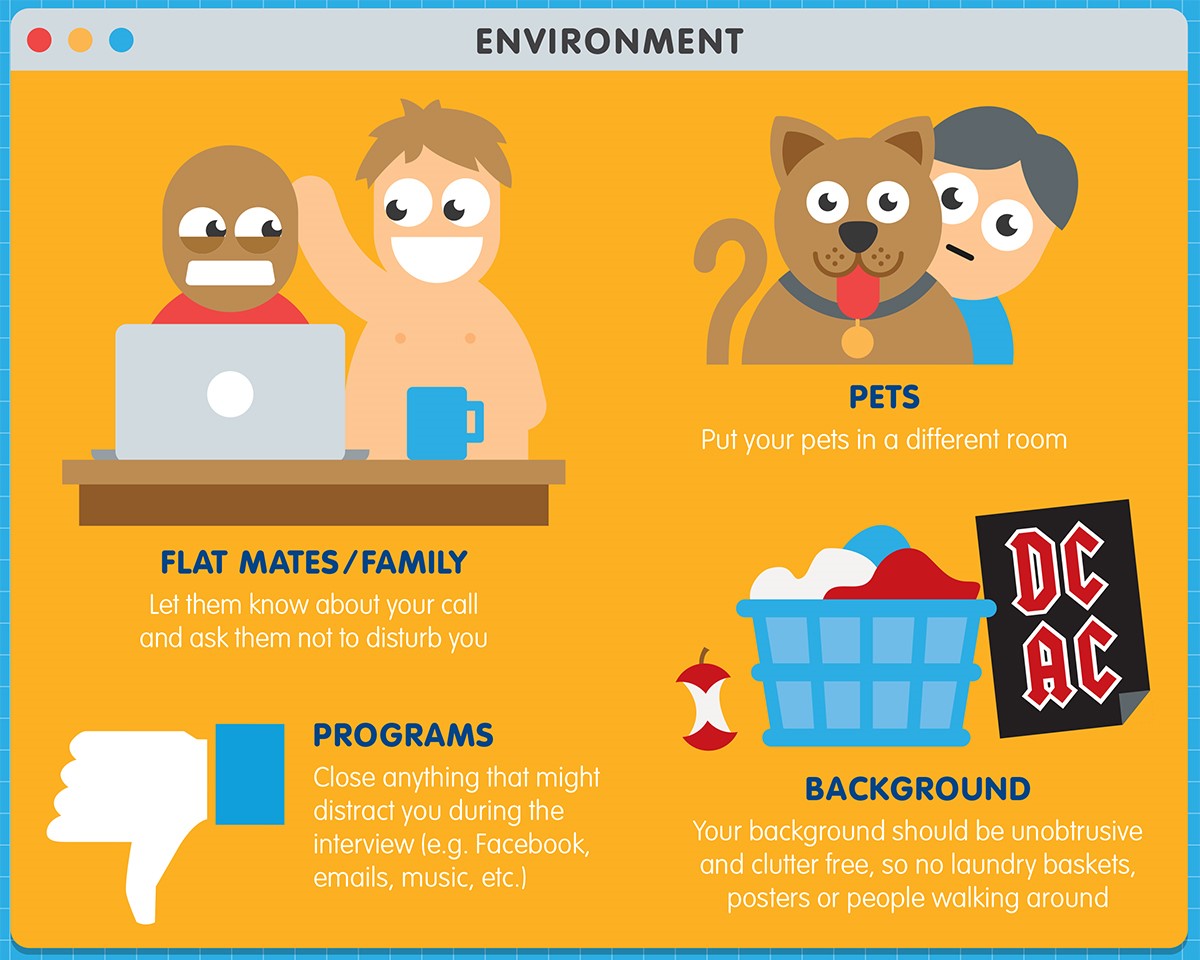 Turn on your webcam and take a look at what you can see around you. Is there a big pile of dirty laundry in the corner? Are there cobwebs in the corner? Does the dog bed ruin the ambiance?
Make sure that your interview environment looks clean and professional, and if you live with other people maybe check that they can stay out of the way while you're online rather than appearing randomly in the background. This counts for pets, too!
Above all, remember to smile! Having a computer screen between you can make you feel a bit more distant, so you need to make up for the lack of visible body language by appearing as friendly and approachable as possible. Any interview is daunting, but preparation is key, and these Skype-specific recommendations should help you get ready to make the best impression possible!