Solmaz crowned "SES Intern of the Year 2013″
Solmaz Jarchlou, an MSc graduate from University College London (UCL), was crowned "SES Intern of the Year 2013". The competition, organised by SES, runs every year setting out to find the best Intern that has been placed at one of their clients.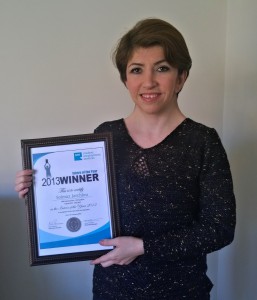 Solmaz beat off a strong set of entrants and amassed impressive votes from SES Judges to win the competition.
Solmaz, who worked as a Project Management Officer, told SES "I was delighted to hear that I was selected as the Intern of the Year. It is a great feeling to find out that my hard work is being recognised."
Linda Pennington-Benton, of IPC, first suspected that Solmaz was going to be an 'exceptional intern', when she realised the speed at which she was achieving her objectives.
Kay Pearson, Executive Director of SES, said: "We are always blown away by the entries sent to us from our clients every year. It is always a real testament to the hard-work from all the candidates we source for our clients.."