SES Intern Winner 2014 – Lucy
Lucy H, final year student of International Business Management at Northumbria University, was the winner of the 'SES Intern of Year' award for 2014.
Lucy completed her 12 month Industrial Placement working as a Commercial Business Assistant, during 2013/2014, with one of our clients.
Lucy commented how she felt when she won:
"Winning intern of the year was definitely a surprise as I was unaware my manager had even put me forward for it! However it felt great to have my hard work recognised and I'm proud to have won."
Lucy settled in fantastically well into the company and demonstrated her professionalism almost immediately through her flexibility and willingness to help.  Lucy coped brilliantly proving she was able to adapt as the role required whilst always being courteous.
Within weeks Lucy had become a valued member of the team and through her efficiency and initiative, had proved she was a reliable, hardworking employee.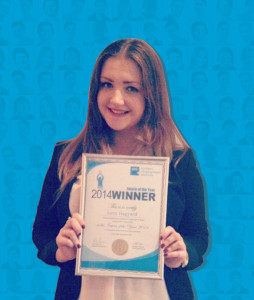 Lucy was extremely well respected and had assumed a very successful role and position within the team. Lucy was professional throughout all her conduct and had really grown in confidence, demonstrated through her ability to interact at all levels. As a result she regularly represented the company at customer events such as tradeshows, functions and event days and always projected a professional company image.
Louise, who was Lucy's manager, put her forward for the nomination and told us:
"Lucy progressed so much, managing all of her direct manager's customer relationships where required.  Lucy should be very proud that I was extremely confident of any contact she has had with my, or the company's customers. If Lucy was staying on longer, I would be putting her forward to now present at customer meetings.
Lucy has been an extremely valued member of our team and in an ideal world; she wouldn't have another year to complete at university!"
She was the deserved winner for this year's intern award.
We wish Lucy all the best with her studies and career aspirations for the future!