Meet England's Biggest Fan
After an extensive search, VisitEngland can reveal that England's biggest fan is Rachel Kershaw from Newcastle-Upon-Tyne!
Rachel is set for an all-expenses paid 70-day trip around the country. Lucky Rachel!
As England's biggest fan, Rachel will explore the places in England set to be illuminated by the torch. Driving the length and breadth of England in a classic camper van provided by O'Connors Campers and staying in The Camping and Caravanning Club's sites, Fan-Rachel will be getting to the heart and soul of the country and telling the world about her discoveries through Facebook, Twitter, and, of course, blog posts with photographs and video footage of her amazing trip. Read all about it right here!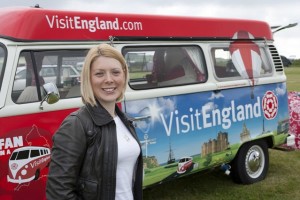 Why Rachel?
Quite simply, Rachel, 30, wowed the judges with her passion for England and her zest for life. She was plucked from a shortlist of 12 wannabe Fan in a Vans with the help from SES. The judging panel, which included Lady Cobham, VisitEngland's chairman, Martin Dorey, author of The Camper Van Coast Book, and Sally Shalam, brit-centric travel journalist, chose Rachel after viewing her entry video, photograph and reading her description of favourite place in England (Newcastle upon Tyne, if you're interested).
Lady Cobham says it best.
"We chose Rachel Kershaw to be our Fan in a Van because her enthusiasm and passion for her home country is truly infectious! During this amazing 10-week trip discovering every corner of England, she will, I'm sure, inspire the Great British Public to take a holiday at home this year and enjoy what we have on offer during this very special year."
Martin Dorey seems to want to take Rachel's place. "I wish I could go along too," he said. "We've got so many wonderful natural, beautiful and interesting places in England that it could take a lifetime to visit them all. The Fan in the Van will see more of them than most and I can't wait to read all about it!"
What does Rachel think?
Holidaying at home from an early age visiting the beautiful Yorkshire and Lancashire countryside, Rachel grew up loving her mother country and nurturing a life-long ambition to drive an 'old school' camper van on a mega road trip around the country.
"This is the challenge and opportunity I've been waiting for!" she said. "I can't think of anything better than travelling around England in a vintage camper van and discovering new places. I'm very excited about the trip and am looking forward to setting off next week from somewhere I have always dreamt of visiting – Cornwall."
Follow Rachel Kershaw, VisitEngland's Fan in a Van

Rachel's ultimate English road trip kicks off on 19 May from Land's End, where she will be waved off from the stunning alfresco Minack theatre overlooking Porthcurno Bay.
Follow Rachel on Twitter @faninavan
We wish Rachel all the best on her travels! Enjoy!
Source: Emma Field, VisitEngland's Editor