35 Of The Funniest Things Found On A CV
The Curriculum Vitae is an integral part of the employment process, as you're tasked with the unenviable job of fitting your entire professional life into two (or at a push, three) pages in the hope of impressing your potential employer. However, the pressure of getting your foot in your prospective workplace's door can often be more trouble than it's worth; with many jobseekers unsure just how much detail they need to share with their future boss.
But by focussing their efforts into being a dream employee, usually results in the form of a nightmare CV. Use these disadvantaged skills to your advantage, and join us as we laugh (and cry) at some of the funniest blunders that have made their way onto a CV: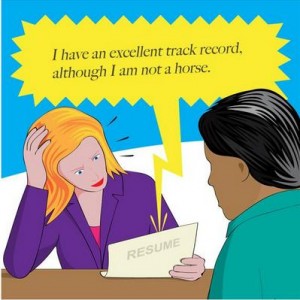 1. often use a laptap.
2. Failed bar exam with relatively high grades.
3. Fluent in English. Also I have been heard muttering Gibberish in my sleep.
4. Qualifications: "I have extensive experience with foreign accents."
5. Experience: "My father is a computer programmer, so I have 15 years of computer experience."
6. Objective: "To become Overlord of the Galaxy!"
7. Accomplishments: "Brought in a balloon artist to entertain the team."
8. Reason for leaving last job: "Bounty hunting was outlawed in my state."
9. References: "Bill, Tom, Eric. But I don't know their phone numbers."
10. Special skills: "I've got a Ph.D. in human feelings."
11. Skills: "I have technical skills that will take your breath away."
12. "Marital status: often. Children: various."
13. Education: "University: August 1890 to May 1993."
14. "I have an excellent track record, although I am not a horse."
15. Candidate explaining details of an arrest: "We stole a pig, but it was a really small pig."
16. Hobbies: "Having a good time."
17. "Seeking a party-time position with potential for advancement."
18. "Let's meet, so you can 'ooh' and 'aah' over my experience."
19. Interests: "Gossiping."
20. Experience: "Any interruption in employment is due to being unemployed."
21. A CV written completely in the third person.
22. Hobbies: "donating blood – 12 litres so far."
23. Awards: "National record for eating 23 pancakes in 2 minutes."
24. Pastimes: "Running, editing video, cooking, writing and wondering."
25. Length of residence: "60 feet, give or take."
26. Reason for leaving: "Responsibility makes me nervous."
27. Hobbies: "Space Travel."
28. Hobbies: "Marital Arts." (Maybe it's a variant to martial arts?)
29. Job history: "Career break in 1999 to renovate my horse."
30. Work experience: "Night stalker in Tesco."
31. Key skills: "I am quick at typing, about 30 words per minute, 45 with strong coffee."
32. Current salary: "£28,000. Salary desired: £170,000."
33. Accomplishments: "My contributions on product launches were based on dreams that I had."
34. Skills: "Am a perfectionist and rarely if if ever forget details."
35. References: "None. I've left a path of destruction behind me."
While obviously it's important to inject your personality into your CV, ensure that you maintain a professional tone of voice (and that you undertake a rigorous spellcheck) – as employers may be averse to you using the company "laptap".