Which UK university produces the best paid graduates?
A study has revealed the ten UK universities with the highest paid graduates.
Emolument.com, the company that carried out the research, found that after five years successful alumni from the university with the highest average graduate salary would be earning an impressive £69,000.
We don't know about you, but we think that would be pretty great.
So, where is this place (and probably, how quickly can you enrol?)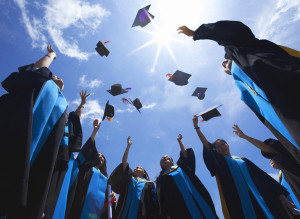 The university in question is London Business School, a postgraduate college that is part of the University of London and offers courses in the MBA/management/finance ilk.
It's followed by the University of Oxford, where graduates earn on average £54,000 five years after leaving, and Warwick Business School, whose alumni can look forward to £53,000 salaries.
Also on the list were the universities of Cambridge, Sheffield, Edinburgh and Birmingham.
So if you want to be earning big money just a few years after graduating, you better hope you go to one of these universities.
Here is the top ten list in full, as well as the average grad salary after five years:
1. London Business School: £69,000
2. University of Oxford: £54,000
3. Warwick Business School: £53,000
4. University of Cambridge: £52,500
5. Cass Business School: £50,500
6. London School of Economics and Political Science: £50,000
7. University of Sheffield: £49,000
8. University of Edinburgh: £48,500
9. Imperial College London: £47,000
10. University of Birmingham: £46,500
by Sarah Miller, TNS